I was reading yesterday the signs in my baby book about what to look for when you have Preeclampsia. Not that I was question my current state, but it happened to be that chapter coordinating with my gestational week.
Don't get me wrong I think I have hoped at some points I had preeclampsia from the mere and only perspective to explain the swelling and weight gain. Certainly, it couldn't be the amount of food and type of food I am consuming. Nope. Nope. Nope. One of the well-known symptoms is excessive swelling. It EVEN stated in the book that you might have to get your ring cut off your finger if it starts to hinder circulation. I really did think to myself, "Darn, that would be tragic to oneself. I would be sad if they had to cut my wedding ring off."
Jinx. After a nice snooze, I came out to start dinner. On the menu for the evening meal,
Pioneer Woman's Super Sonic Breakfast Burritos
. We have become cheese snobs and usually only buy this $5,000,000 per brick cheese at our local Red Clover store. It is magnificently good and worth driving over to buy. Anyway, I knew this cheese would make these savory burritos even more tasty.
John got home from work and I decided to drive over real quick to get the cheese. I was spinning my wedding ring on my finger and noticed that it went all the way around without my finger being stopped at the main Marquis in the middle. I looked down to see this. It was gone and completely broken off.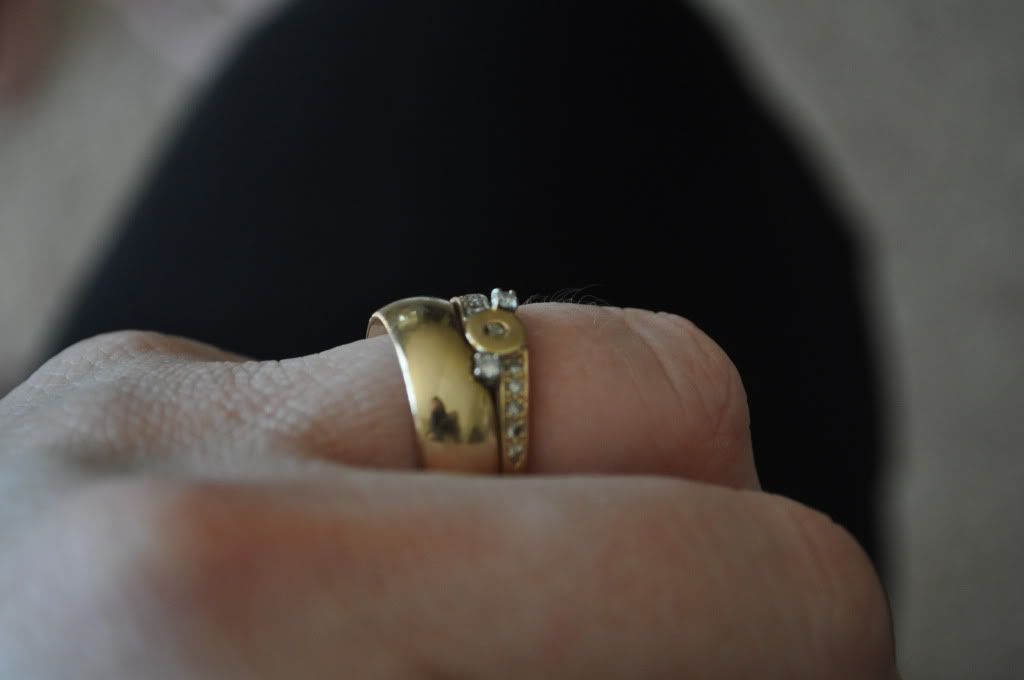 I was shocked. I called John and told him to which he replied, "GREAT! There goes $32,000!" We have an on-going joke about how much my ring really did cost. I still don't know so he periodically drops funny hints to lead me to believe certain numbers.
It is always a sad feeling to lose something so sentimental, but I think I was more in shock because I didn't even know where to begin to look for it. I had just looked at it ironically that day when I read about preeclampsia and the whole ring cutting off finger ordeal, but what are the chances????
We prayed to St. Anthony to find it somehow.
This morning, I was cleaning up the breakfast dishes. Vianney had thrown her spoon into the sink and it went down the drain, but was sticking out a bit. John had eaten some strawberries and one of the green stems was stuck at the bottom of the sink drain so I grabbed a cup of water to wash it down.
That is when I noticed it. There it was! Sticking on the back of Vianney's spoon, hanging for dear life onto the black sink rubber gripper just waiting to flushed down the drain. I told the kids not to talk. I think I felt any disturbance in the force would make it fall. I grabbed my pluckers and tried to grab it, but only sent it down the drain. Going against all childhood fears and warnings, I stuck my hand down the drain, feeling around near the deadly disposable blade and found the diamond.
I took a picture because I knew nobody would believe me unless I did. When John came home and I replayed the story to him and replied, "That is such a crazy story that it is almost unbelievable."
See it! Just sitting there on the back of the spoon.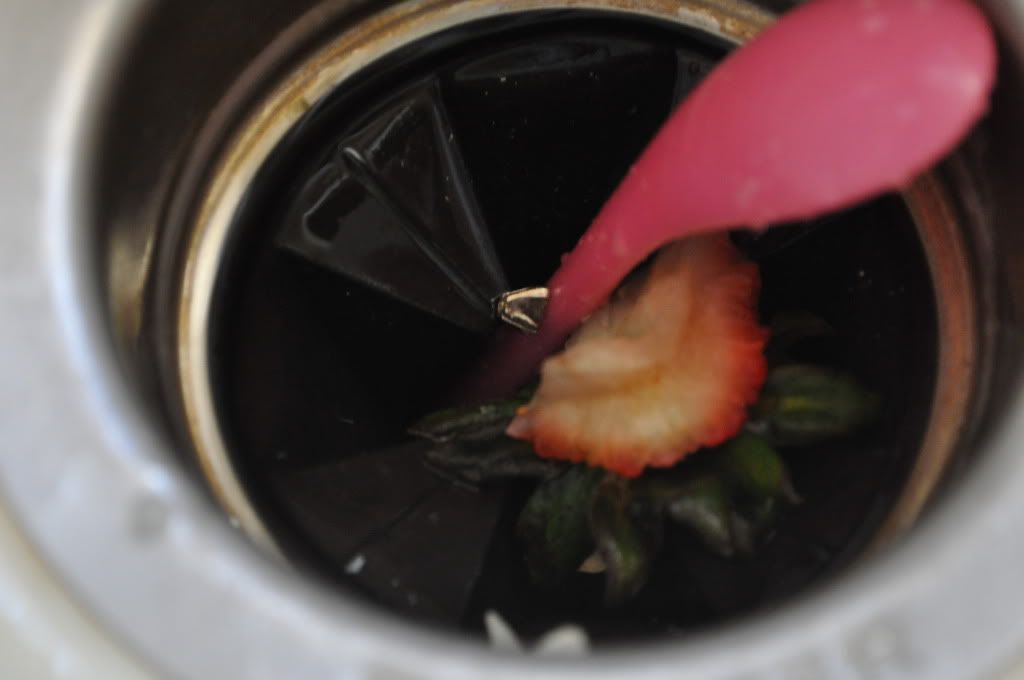 Less than 24 hours later I found it! Why there? Where had it been? Why was it trying to end its own life only for me to catch a glance out of the corner of my eye and notice it? Do you know how many people had used the sink from the time I noticed it gone? So weird.
St. Anthony has never let me down, but this definitely wins the award. I almost looked around to see if he was winking at me somewhere.